River Cruises on the River Severn, Shrewsbury
It's hard to describe what it's like to experience river cruises on the Severn; it varies throughout the year as nature whisks us through the cycle of life.
In spring you'll see new shoots appearing, slowly engulfing the branches of the lime trees that line the banks of the quarry. Summer flowers burst and bloom in an array of technicolour, dazzling revellers as they pass by. And in autumn, the deep red and brown hues of fallen leaves melt away into the banking. Leaving only the evergreens to hold their colour in the reflection of the winter river Severn.
Either way you look at it, river cruises on the river Severn are a spectacle to behold. Not only can you take in the glories of what nature has to offer (and we're particularly blessed in these parts) but also we'll take you on a journey through time. Take a look at a Shrewsbury map and you'll see how important the Severn has been in sculpting our town. From the first settlements where the river provided natural defences to the development of merchant trading which fuelled the towns' growth. Our river cruises give a new and old perspective of Shrewsbury that puts the town into context.
River cruises for all occasions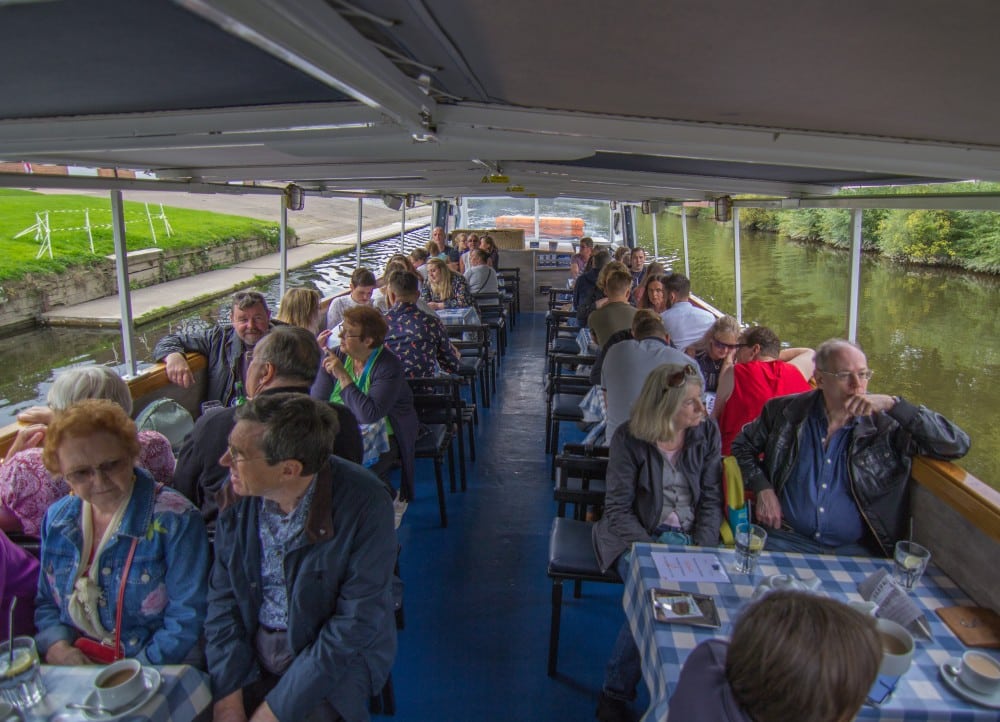 By far our most popular river cruises are our daily boat trips that sail from the historic victoria quays on the opposite side to the Frankwell embankment. Connecting Shrewsbury across the river Severn is the Welsh bridge. Ideally situated it makes just a short walk from the Frankwell carpark, Shrewsbury's largest long-stay facility to our boat, Sabrina.
Our day river cruises are designed for ultimate relaxation, enjoying a gentle sail around the river Severn loop and up to the English bridge. On the way out take advantage of the photo opportunities, capturing the beautiful views of Shrewsbury's riverside. As we head back in, our captain will entertain you with stories of the town, past and present. During your river cruise we offer table service via our on-board bar, so you don't even need to get up off your seat unless you really want to. Our day river cruises take 45 minutes.
Ghost cruise on the River Severn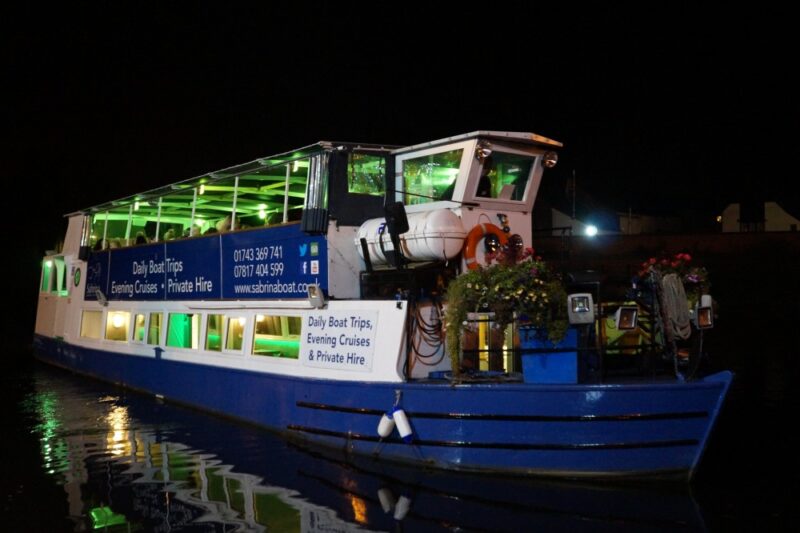 When does the Ghost river cruise take place?
As the nights shorten and darkness takes her grip, then the River Severn is transformed into something far more sinister. That's why we only run our ghost cruises in October, making sure the ambiance is just right. But fear not, they run every Monday evening throughout the hallowed month at 7pm. The trips last 45 minutes.
What to expect
Shrewsbury is steeped in history. As a medieval market town there is no end of stories and legends where gruesome, blood-curdling murders have been committed, leaving the spirits of those who passed to wander endlessly in the night. We'll take you around the loop, regaling you with some of the strange happenings and spooky tales of the river Severn. Maybe you'll see something out there as we pass historic buildings and landmarks of Shrewsbury.
Themed cruises down the river Severn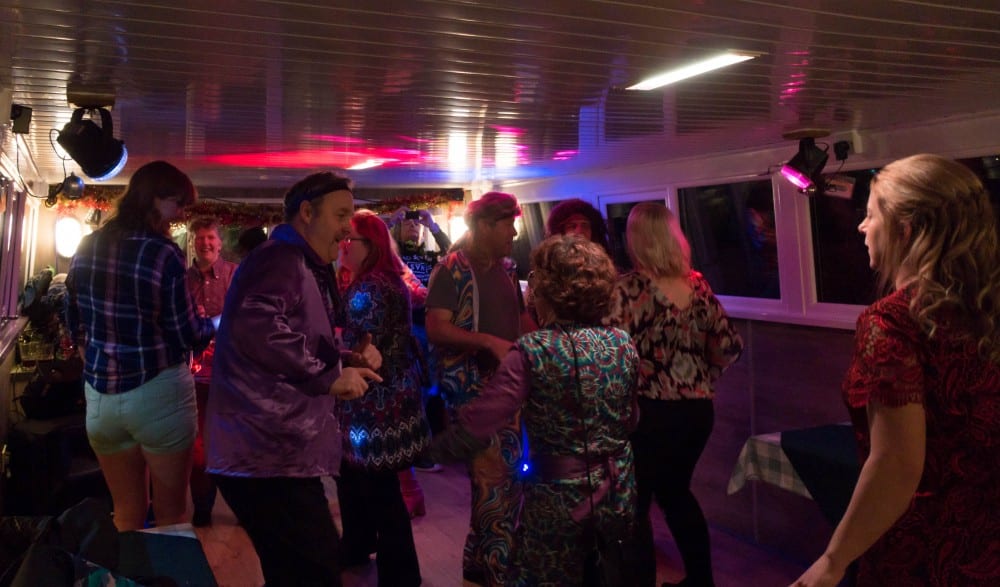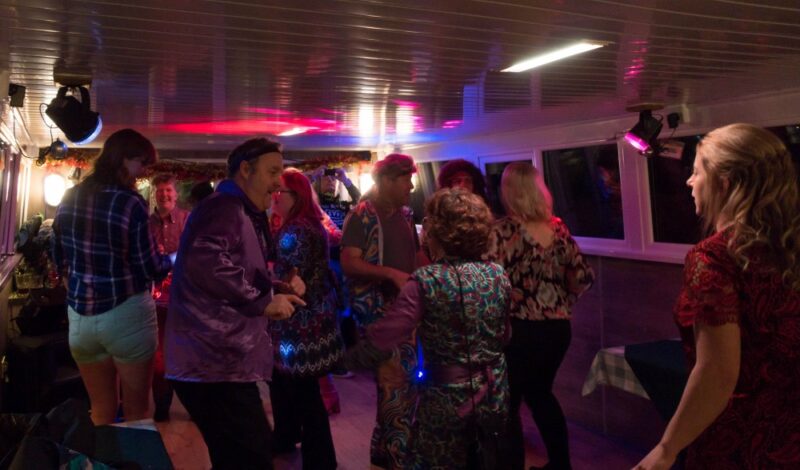 In the summer evenings we can think of nothing better than mixing pleasures of an extended river cruise with the luxury of a unique experience. Take for example our wine tasting cruises that we run alongside local wine merchants Tanners.
If you haven't heard of Tanners, then you'll be pleased to know that this three-hour wine tasting cruise is as authentic as it comes. Tanners are a family-run business with a heritage as the premium wine merchant in Shrewsbury dating as far back as 1872. When you're in the business that long, you're doing something right. So sit back and enjoy the expert-led journey of wine discovery.
Other themed cruises include whiskey and gin tasting masterclasses run by Wrekin Whiskies of Wyle Cop. Just like the wine tasting, you'll enjoy relaxing river cruises down the Severn while you learn about the finer notes of your favourite tipple.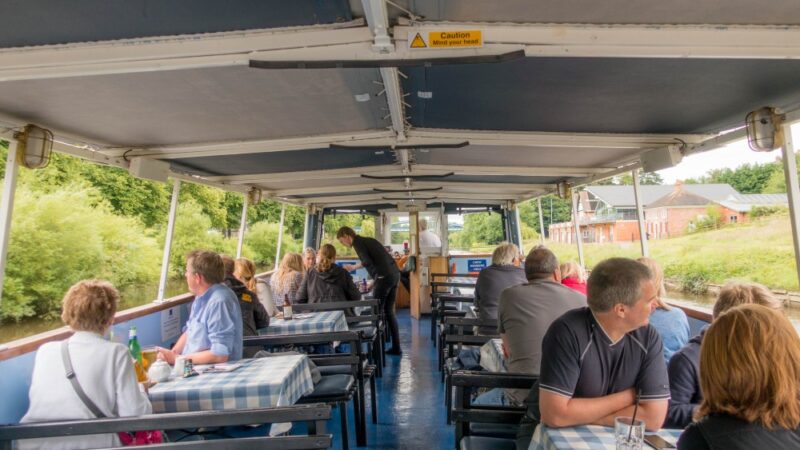 Every Tuesday evening we take Sabrina down the river Severn at 7pm. Unwind as we take in the fabulous views to a soundtrack of relaxing music while enjoying the finest food in Shrewsbury has to offer. What's unique about this experience is we offer four different menus; all freshly prepared and delivered just in time for your river cruise from our partner Shrewsbury restaurants.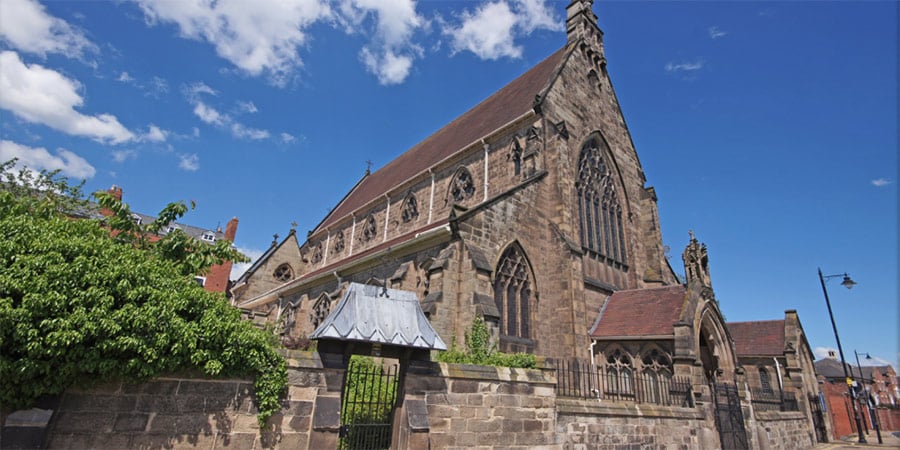 Ahh, Sunday lunch, the great staple of British cuisine.
Yorkshire puddings, heaps of veg, roasties and succulent meat cooked to perfection (or alternatively a vegetarian option). All washed down with lashings of gravy, followed by a desert.
At 1pm on our Sunday cruise, we depart from Victoria Quay in Shrewsbury for a 45-minute river cruise. Upon departure take a brief stroll to the Bucks Head Inn where your meal will be freshly prepared just in time for your arrival.