Do you ever lose hope when you're looking for the perfect place to eat? So many choices and each one looks just as tempting as the next, and that's before you've even made your mind upon the type of food you want to eat. So to make that process a little easier we wrote a guide to who we think are the best restaurants in Shrewsbury.
Our favourite restaurants in Shrewsbury
We're all a little bit different aren't we, which makes it difficult to actually define what the best restaurants are in Shrewsbury.
For some, best means the freshest possible ingredients, cooked to perfection by attentive restaurateurs who live and breath customer satisfaction. Then again, maybe you're a people person, if so then service trumps all. There are many other factors to consider including dietary requirements, location and if pets are welcome inside.
Many of the restaurants below are also our partners, we simply love what they do and we want to share that with you. Some prefer to be inside the restaurant as part of our Meal and Cruise Packages or Sunday Lunch Cruise. Either way, Shrewsbury has a lot to offer!
Thai-D Food Bar/Albert's Pour House
128 Frankwell, Shrewsbury, SY3 8JX
Tel: 0333 303 1066
Authentic Thai restaurant below a cocktail bar by night and Thai-inspired street food/cafe in the day. Thai-D Food Bar within Albert's Pour House has just about everything you could as for. It's also just up the road from the main car park in Shrewsbury, Frankwell.
Web: www.thaidfoodbar.com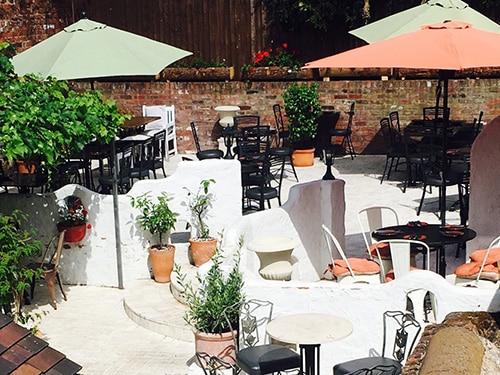 Spanish Tapas at The Olive Tree
Frankwell Island, Shrewsbury, Shropshire, SY3 8JR
Tel: 01743 383373
If you're looking for a place that makes amazing food and is a dog-friendly restaurant in Shrewsbury then you're in for a treat. The Olive Tree, just over the river on Frankwell Island is the perfect place to relax and enjoy very affordable Spanish tapas. It's cosy and comfortable, and best of all doggy lovers, you can sit wherever you want.
Facebook: @theolivetreeshrewsbury
The Alb
14 Smithfield Road, Shrewsbury, Shropshire, SY1 1PD
Tel: 01743 367600
The Alb has a lot of character, all the amazing things you'd find in a major city restaurant but without any of the pretence. Their menu has a really yummy street food focus with a Central American twist. They also do some of the best cocktails in town too.
Facebook: @albertshrews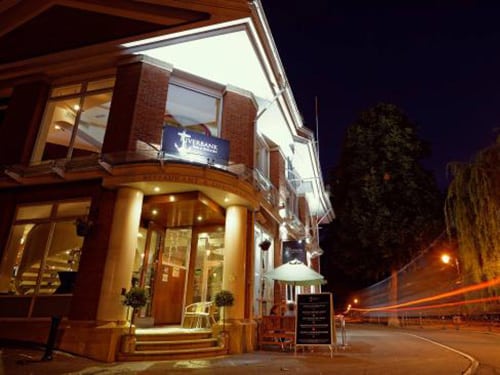 Riverbank
Victoria Quay, Victoria Avenue, Shrewsbury, Shropshire, SY1 1HH
Tel: 01743 233244
If you love the taste of the med or just classic British cuisine cooked to perfection then you can't stray too far wrong with the Riverbank restaurant which is just metres away from where our Sabrina is harboured.
Facebook: @visitriverbank
The Old Bucks Head Inn
53 Frankwell, Shrewsbury, Shropshire, SY3 8JR
Tel: 01743 369392
Our Sunday Lunch Cruise partner, The Bucks Head Inn is your quintessential British pub. High-class food made from fresh ingredients served by welcoming staff. Situated just a mere 5-minute walk from Victoria Quay where Sabrina is moored, this olde worlde pub is the perfect place to unwind and dine in a traditional Shrewsbury setting.
Avatar
22-23 Mardol, Shrewsbury, Shropshire, SY1 1PU
Tel: 01743 361888
If authenticity is your thing, then Avatar is well worth a visit. They are the only Indian and Nepalese restaurant in Shrewsbury, so what you can expect is something quite extraordinary. A visit to Avatar is like taking a once in a lifetime trip through the different regions of South Asia, where unique tastes and aromas tantalise the very fabric of your understanding of the word 'curry'.
Facebook: @avatardiningshrewsbury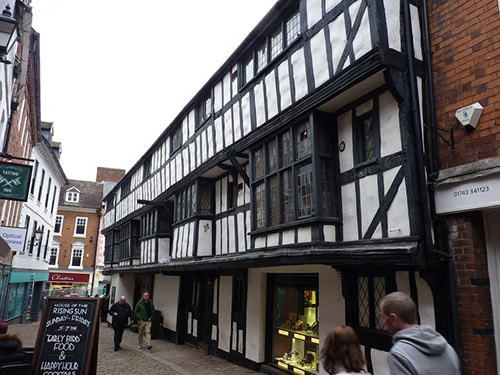 Chambers Bar and Bistro
Chambers, Church Street, Shrewsbury, Shropshire, SY1 1UQ
Tel: 01743 233818
As far as location goes, Chambers Bar and Bistro at the Prince Rupert Hotel is about as special as they come. This is the quintessential Shrewsbury restaurant set within one of the oldest buildings in the town; with dark wood beams running against lime wash walls it's hard not get lost in the beauty of this place.
What you can expect from Chambers at the Prince Rupert Hotel is classic English meals, lovingly made from locally sourced, seasonal produce served with a compliment of excellent wines selected to bring out the best in complementary flavours. And if you think this place sounds unaffordable, you'll be very pleasantly surprised.
Facebook: @chambersbarrestaurant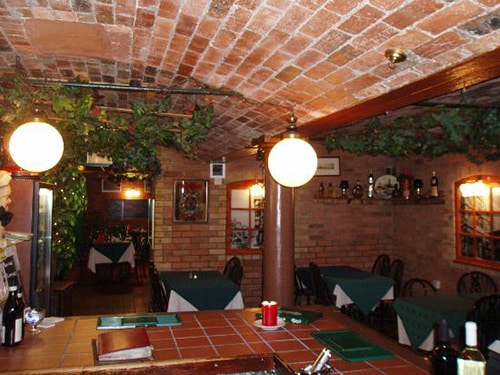 Osteria Da Paolos
Hills Lane, Shrewsbury, Shropshire, SY1 1PS
Tel: 01743 243336
You can't get more of an authentic Italian restaurant in Shrewsbury than Osteria Da Paolos, it's the real deal. The freshness of their ingredients makes their meals pop with flavour, reminiscent of the sun-soaked landscapes from where they were conceived.
It's hard not to be whisked away by the pure sensory experience of a traditional Italian restaurant like this one. The rustic cellar speaks to you with a truthful reflection of Southern Italian style; lightly echoing music fills the air with warmth, as does the attitude of the staff. All in all, it feels like you're one of the family, something many traditional restaurants fail to achieve these days.
Facebook: @osteriada.paolos
Share this post
Search the blog