Dog Friendly Shrewsbury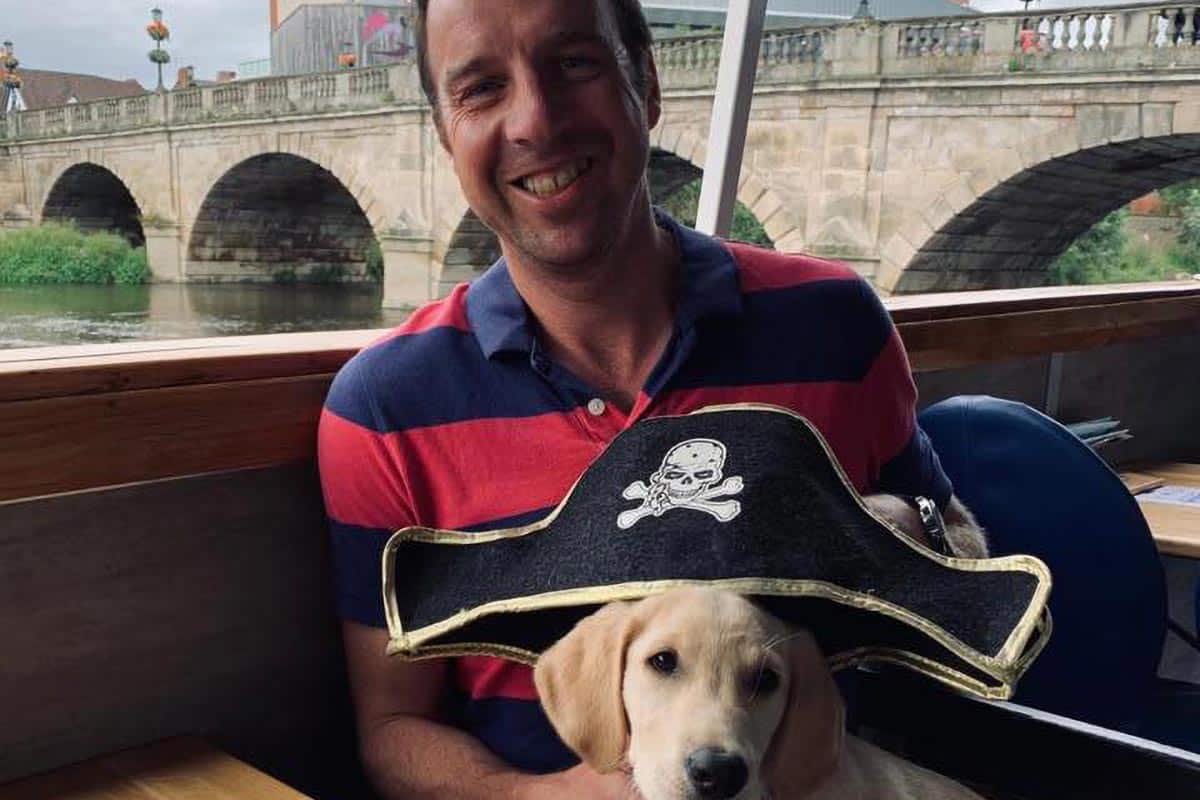 Shrewsbury is one of those towns; small enough to walk around without getting too lost, but still keeps you on your toes. Every twist and turn; the cobbled streets and the wood-clad Tudor buildings present you with another piece of history, and Shrewsbury has seen a lot.
And when a town is so steeped in history it makes the perfect place for exploring, and even more so with a dog. But as fans of our four-legged friends know, it's not always easy to find attractions and places to relax while you're on your adventure. So this guide to dog friendly Shrewsbury should make your stay stress free. Better still, we've included an interactive map of dog friendly places in Shrewsbury. By clicking on the points you can easily navigate through town.
Dog friendly places to stay in Shrewsbury
One of the great things about Shrewsbury is there are lots of options for places to stay with your dog. We have lots of great dog-friendly hotels that will make you feel more than at home.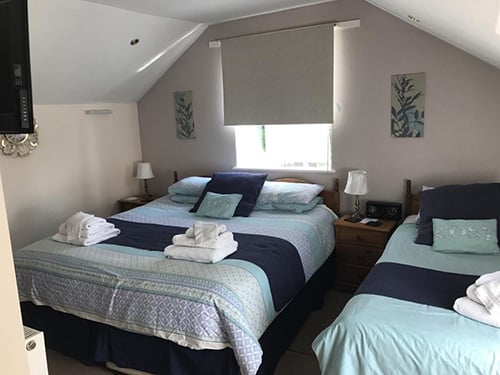 Sidney House
Sydney House
Coton Crescent, Coton Hill, Shrewsbury, SY1 2LJ
Tel: 01743 354681
Sydney House is a guesthouse just on the outskirts of town. It's close enough to walk into the centre without much effort, but most importantly they offer free parking. The walk into town is quite lovely too, with views of the majestic River Severn to your left. Sydney House might not offer the ease of grabbing lunch and dinner at your place of residence, but hey, you have a whole town dedicated to foodies right by your doorstep.
Website: www.sydneyhousehotel.co.uk
Darwin's Townhouse
37 St Julian's Friars, Shrewsbury, SY1 1XL
Tel: 01743 343829
More upmarket than many hotels in Shrewsbury, Darwin's Townhouse is a boutique hotel that is beautifully decorated and it's dog friendly too. You'll love how attentive the staff are, who are more than accommodating to you and your pooches needs. Not only does Darwin's Townhouse offer luxury pet friendly accommodation in Shrewsbury, but they also offer some of the best food and drink the town has to offer at their sister restaurants.
Facebook: @darwinstownhouse
Dog friendly things to do in Shrewsbury
While many of the main attractions only allow support dogs, there are still loads of things to do in Shrewsbury that are 100% dog friendly. Some are even all season. So no matter if it's raining sideways or dazzling sunshine, there's always something you can enjoy in comfort.
Sabrina Boat
Victoria Quay, Victoria Ave, Welsh Bridge, Shrewsbury SY1 1HH
Booking: 01743 369741
We're not trying to blow our own horn, but Sabrina is considered one of the best pet-friendly things to do in Shrewsbury. That's because we have an inside and an outside area to the boat, perfect for all weather. Better still, we're right next to The Quarry Park which runs along the River Severn, an excellent place to walk your furry friend before embarking (no pun intended) on your voyage.
Facebook: @Sabrinaboat1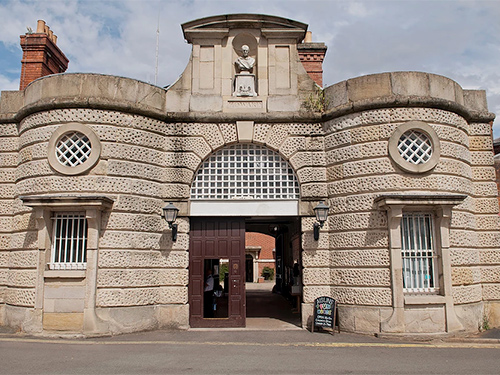 Dana Jail
The Dana, Shrewsbury SY1 2HP
Tel: 01743 343100
Top of the list is Dana Jail. Dogs are welcome (on a lead) for the self-guided walks only. What we love about Dana Jail is there's plenty of space, it's cool enough for your dog all year around, and you'll do a fair bit of walking too. There's a car park opposite the building, but it's also perfectly placed for day-trippers being right next to the train station. You can spend a fair while here too, so it's great value for money.
Facebook: @jailhousetours
Haughmond Abbey and Hill Walk
Haughmond Abbey: B5062, Shrewsbury SY4 4RW
Haughmond Hill Car Park: Upton Magna, Shrewsbury SY4 4RP
Not strictly in the centre of town but still an excellent place to visit in the Shrewsbury area, a mere 4 miles out of town. The Abbey itself is an excellent example of a medieval Augustinian monastery founded around the early 12th century. Now ruined it is still an impressive sight to behold, very photogenic. There's a lovely picnic area too.
Just up the road is probably the best dog walking area in Shrewsbury that is run by the forestry commission. There are plenty of walks to choose from but try to get to the top of the hill; here you'll have a commanding view of Shrewsbury and the Shropshire Hills. On a good day, you can see for miles around. All very dog friendly too, as you can imagine.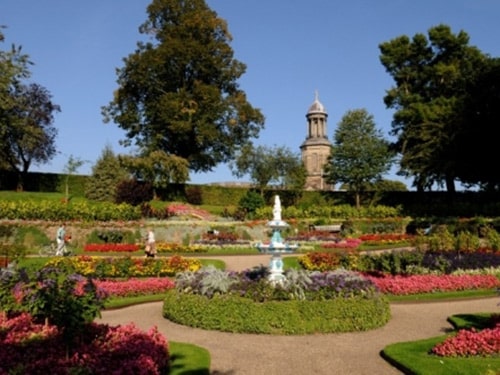 The Quarry
Shrewsbury SY1 1JA
The Quarry is quite simply one of the best dog walking parks in the country. On a fine spring evening, nothing can beat walking down the riverside. Weeping willows lurch and sway in the breeze; an ornate display, beckoning the passing insects with lustful gestures. Light refracting on the water sprays up against a backdrop of new and old architecture producing nature's graffiti if only witnessed for a passing moment. The sound of play, laughter and joy. A moment of clarity in our busy modern world.
Even in the winter months, The Quarry is an excellent place to visit.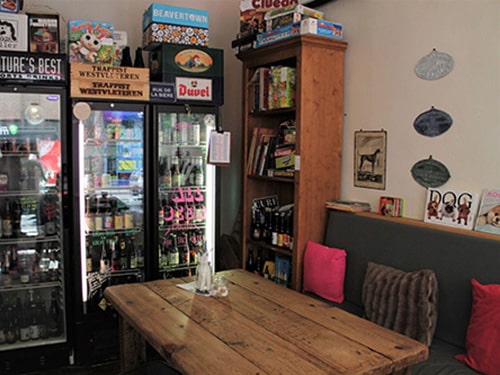 Chez Sophie
10 Mardol Head, Shrewsbury, SY1 1HD
Tel: 01743 588560
Chez Sophie serves sweet and savoury crepes along with a fine selection of drinks to suit all tastes. Mixing Franco and English cuisine with a splash of Belgique luxury make Chez Sophie the perfect way to add a pinch of European exuberance to your day. Set across two floors; the thoughtful décor is enchanting as it is uncontrived. We like that. And when you step out of the door, Chez Sophie leaves a lustful yearning deep in your soul to make a return visit soon.
Facebook: @lescrepesdesophie
The Olive Tree
Frankwell Island, Shrewsbury, Shropshire, SY3 8JR
Tel: 01743 383373
For those looking for a meal in the evening there is one place that tops the dog friendly restaurant list for Shrewsbury, The Olive Tree. They do a mean tapas menu that rivals some of the most expensive restaurants in town but without the big bill at the end. More importantly, they love having dogs in the restaurant. They don't play lip service to the idea of being dog friendly either; literally, you can choose any table you wish. Drinks are prepared with devotion and the staff always have a smile on their face. What more can you ask for?
Facebook: @theolivetreeshrewsbury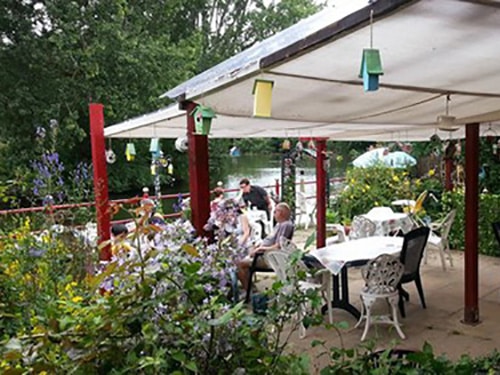 Lily's Tea Garden
Severn Terrace, Smithfield Rd, Shrewsbury SY1 1PF
Tel: 07964 984982
Quaint English splendour at its very best, Lily's Tea Garden is one of those secrets that most people don't want tell. But the cat is now out of the bag. It's quite something to find the perfect retreat from a bustling market town only minutes away from the high street, but here it is. Lily's Tea Garden is totally dog friendly and serves tasty homemade food. A must for any rumbling tummy day-trippers.
Facebook: www.lilysteagarden.blogspot.com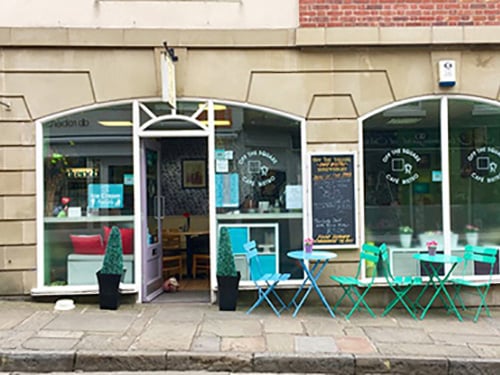 Off the Square Bistro
17 Market St, Shrewsbury SY1 1LE
Tel: 01743 270111
Off the Square Bistro serve a plethora of tasty treats right in the centre of Shrewsbury. What you'll notice about this place, beyond their dog friendly attitude, is the care and dedication they make to each customer. It's quite a rare find these days, but Off the Square Bistro hit the nail on the head with their service level. Excellent range of different meals and super accommodating to your dietary needs.
Facebook: @offthesquarecafe